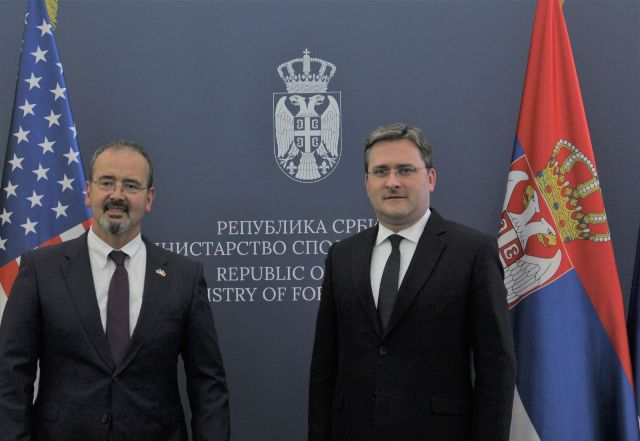 Minister of Foreign Affairs of the Republic of Serbia Nikola Selakovic met today with Ambassador of the United States of America Anthony Godfrey.
The Serbian Foreign Minister underlined that the promotion of all areas of cooperation with the United States was one of Serbia's foreign policy priorities, as well as that our country was committed to having the most substantive and broadest possible cooperation.
Ambassador Godfrey emphasized the support of the United States of America to Serbia's European path as well as to the economic growth of Serbia and the region.
In the year when we mark the 140th anniversary of bilateral relations between Serbia and the United States, there is a desire to work on projects of mutual interest and proceed to a higher phase based on partner cooperation, Selakovic underlined and added that, to this end, Serbia was particularly interested in promoting economic relations with the United States.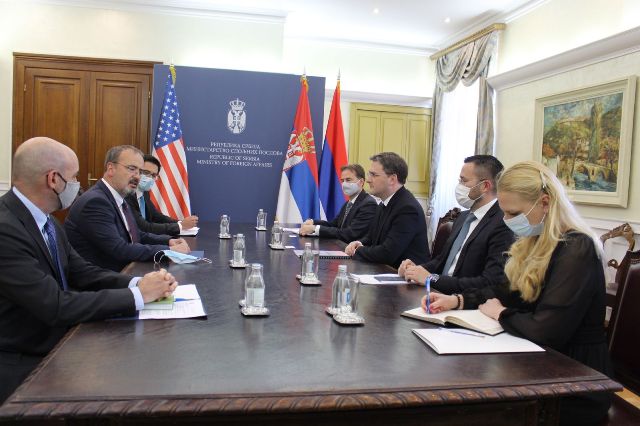 Minister Selakovic and Ambassador Godfrey pointed out the numerous activities and commitment of Serbian Ambassador in Washington Marko Djuric to the development of Serbian-US relations and the celebration of 140 years of bilateral cooperation between the two countries.
The Head of Serbian diplomacy also emphasized that our country was grateful to Washington for its continuous support to the EU-facilitated dialogue with Pristina, as a process for a peaceful, compromise and sustainable resolution of the issue of Kosovo and Metohija.
The collocutors agreed that both countries were committed to the implementation of the Washington agreement on the normalization of economic relations, as a step towards the normalization of relations between Belgrade and Pristina.
Selakovic and Godfrey also discussed regional cooperation, and the Ambassador pointed out that Serbia and the entire Western Balkans were still in the focus of the United States.